Alternative To Clarins Double Serum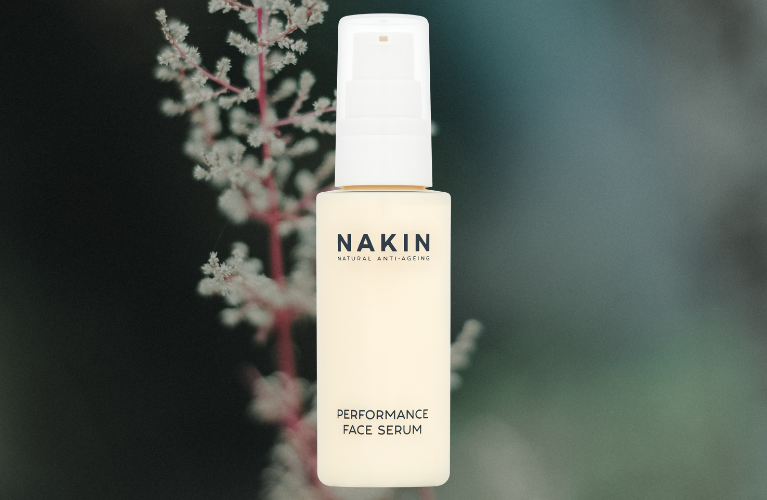 If there is one face serum that we hear a lot about it has to be the Clarins Double Serum. Clarins is a giant amongst skincare companies and this trail blazing serum has been advertised to all. At Nakin we do not have the advertising budgets that Clarins do, but through word of mouth our cult Performance Face Serum has become a favourite as a more natural and affordable alternative to the mighty Clarins Double Serum. Our Nakin Anti-Ageing Serum rivals it in so many ways and exceeds it in many too. Our Performance Face Serum is a similar product to Clarins, but we believe it has a higher amount of natural ingredients and is much more purse friendly. Find out why our Performance Face Serum is such a hero product below.
Price Comparison
Let's start with the price as this is an especially important factor when it comes to skincare products. The Clarins Double Serum is £78 for 50ml, whereas the Nakin Performance Face Serum is £25 for 50ml. This is an enormous difference. We tend to have a preconception that the more a product costs the more effective it will be. This can be true, but not in this instance, as at Nakin we have a mission to make high performance luxury skincare accessible to all. We use the best plant actives in our skincare and as a small company we put our resources into this, instead of the other costs associated with big business. The reason that we know our serum is an alternative to Clarins is because we use amazing ingredients in the formula, and also because our customers tell us. Why pay a fortune for skincare when our amazing alternative is so much more affordable. You could purchase 3 or 4 of Nakin's award-winning face products for the same price as one Clarins serum.
Ingredients Comparison
Both serums contain different actives, but both are packed full of amazing plant extracts that are proven to enhance skin. Our Nakin serum is 99% natural, however, we are not sure of the natural ingredient percentage of the Clarins Double Face Serum. At Nakin we also use masses of plant extracts to revive and rejuvenate the skin including a special blend of peptides, hydrators, antioxidants and omegas. This is from the hibiscus, green tea, hyaluronic acid, seaweed, pomegranate and plant oils. These deliver the face a neck a complete facial experience that smooths out lines, helps to repair past skin damage, hydrates and brightens. It is an all-in-one serum with outstanding performance. The Clarin's Double Serum has lots of wonderful ingredients that are great for skin, however, it also contains some less desirable ones that we would not use at Nakin. This includes synthetic colour and fragrance. Instead, we keep our formulas as natural as they can be.
Performance Comparison
Both serums have impressive performance and exceptional multitasking ability. They are so much more than an anti-wrinkle serum as they work on more than one skin concern and help with the following.
Hydration
Visibly smoothed lines & wrinkles
Restoring radiance and an even skin tone
Toning & conditioning
Protecting skin from damage
Look, Feel & Usage
The look, feel and consistency of the Clarins Double Serum and our Performance Face Serum is probably one of the biggest differences as the Double Serum is more oil like, whereas the Nakin Face Serum is more lotion like. The Clarins serum has a strong floral scent, whereas the Nakin serum has a mild natural perfume, as our face serum is kind to even sensitive skin. They both leave skin feeling silky soft and comforted.
Ethical Credentials
Nakin is a kind ethical company, and our Nakin Performance Face Serum is vegan, cruelty free and made in the UK. To find out more about us take a look at the website to see all about our natural anti-ageing skincare range.