Which is Better, a Serum or an Oil?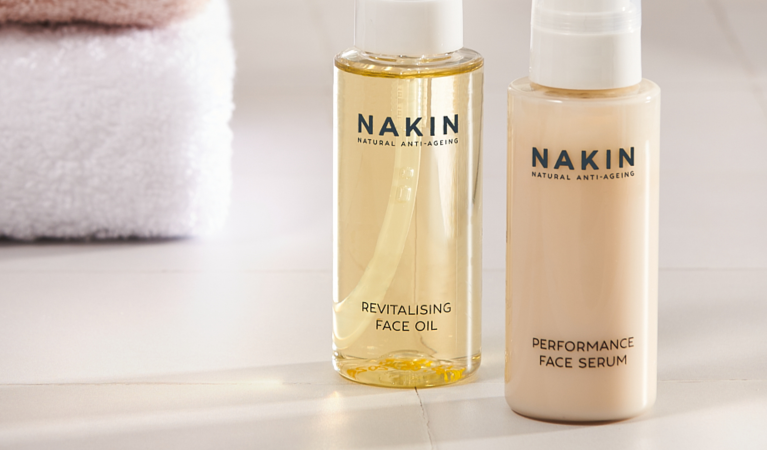 At Nakin we have stunning face treatments and two of them include our Performance Face Serum and Revitalising Face Oil. They are both beautiful facial treatments that have lots of benefits for the face and neck including moisture building, skin barrier repair and nutrient boosting. With them both being treatments but having different properties lots of us are unsure which one will be best for our skin, and whether to pick one over the other, or to use both.
The simple answer to this is that a good face oil like ours had the main job of calming, nourishing and repairing a damaged skin barrier; which makes it great for sensitive and dry skin, plus at the same time it will help with anti-ageing requirements such as improving lines and skin tone. A good serum on the other hand is more about anti-ageing benefits like line smoothing and repairing past damage, plus it will also calm and hydrate. So, you can pick the most appropriate for you or use both together, in this instance the serum would be used first after cleansing, and then the face oil after the serum and before moisturising. Our serum and face oil are just one of our facial treatments and we also recommend a separate eye cream for this delicate area.
When it comes to selecting the best facial product for your skin, one of the most common questions people have is whether to use a serum or an oil. The answer isn't necessarily straightforward as both come with their own set of benefits and drawbacks.
One advantage of serums is that they are typically lightweight and highly concentrated with active ingredients, making them ideal for delivering targeted results. Our Performance Face Serum can give instant benefits to the face and neck by hydrating and line smoothing. Serums are often less greasy than oils, which can be beneficial if you are prone to breakouts or oily skin. However, if a face oil contains high quality plant oils like ours, then it will be great for balancing out oily skin.
Oils are richer than serums, so they work better on dry and mature skin. Many oils are rich in antioxidants, fatty acids, vitamins, and minerals that can nourish the skin. They also help lock in moisture for a more hydrated complexion. At Nakin our Revitalising Oil will quickly nourish the face and neck and provide an instant glow.  
Ultimately, choosing between a serum or an oil depends on your individual skin needs and preferences. Consider what kind of results you're looking for and whether an oil or serum will give you the best outcomes. That being said, there's no harm in experimenting with both and this will give the ultimate in hydration, skin calming and anti-ageing rejuvenation.
For those looking to achieve a more radiant complexion, layering both a serum and an oil can be highly beneficial. This is because the active ingredients in serums are quickly absorbed by the skin, while the oils help lock in moisture and nourishment for long-lasting de-stressing, hydration and protection. When used together, this combination helps give your skin maximum benefits from both products.
In conclusion, there isn't one right answer when it comes to deciding between a serum or an oil. Both have their advantages which you can consider when selecting a product that's best suited to you. All of Nakin's anti-ageing face products are designed to help skin flourish and you can see our full range online at www.nakinskincare.com