The Difference Between a Serum and Face Oil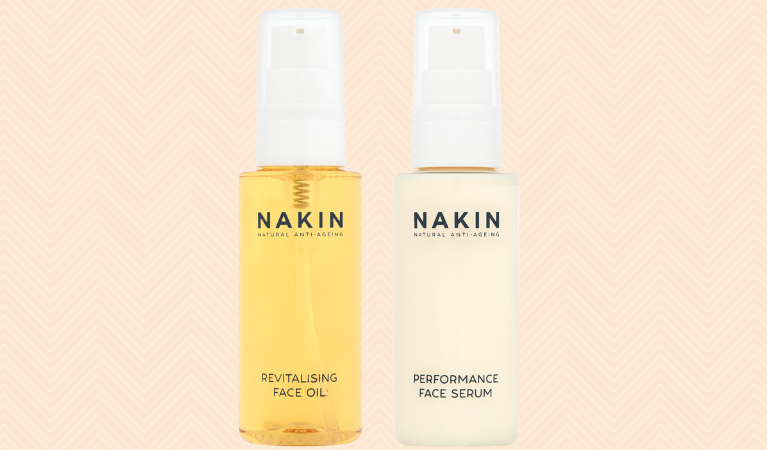 One of the frequent questions that we receive at Nakin is about face serums and oils, and the differences between them. Face serums and face oils are both treatment products, and you can use them together, or just one of them, but they have different benefits for the face. They do share some properties as they are both anti-ageing and reviving for the face. A serum goes on after cleansing and has powerful actives for skin rejuvenation, resisting signs of ageing, hydrating deeply and easing lines. An oil would be used after the serum and before a face cream. Oils are great for energising and helping with stressed skin issues like dryness or sensitivity, plus conditioning the skin barrier. A face cream moisturiser then goes on top of the serum/ oil to seal in all of the goodness, as well as hydrating, nourishing and protecting the face and neck.
At Nakin we have an award-winning natural serum and face oil in our natural face treatments collection that have lots of special properties, as outlined below.
Natural Face Serum
Our Anti-Ageing Performance Face Serum regenerates skin with its powerful plant fuelled formula filled with botanical actives, extracts and oils. The formulation contains some of the best natural actives available including green tea, hibiscus and hyaluronic acid. These work together to condition, smooth lines and improve elasticity, for natural restoration of the skin. It has a light lotion gel like consistency with a mild natural scent. Made for all skin types including sensitive skin.
Natural Face Oil
Our Anti-Ageing Revitalising Face Oil is blended with special skin enhancing plant oils that glide on beautifully and soak into the skin cells. The combination of baobab, argan, peach kernel and jojoba oils work to revitalise, soothe and renew. It is especially lovely for stressed skin and brings it back to a state of calm, while energising and hydrating at the same time. Skin is left feeling pampered and glowing. The oil is delicately scented with a completely natural fragrance and is made for all skin types, including oily and sensitive skin.
One thing to note when it comes to oils and serums is that we have noticed that some companies have their own interpretation on what a face serum is. To confuse matters sometimes face oils are called serums, when really they should be stated as an oil. This is because serums have a unique texture and consistency, they are like a cross between a cream and a gel, which makes a more lotion like consistency that is easily absorbed and accepted by the skin. Oils are also readily welcomed by the skin, but they do a different job as they cannot be formulated with the same actives as a serum. This is why serums and oils are different and offer their own benefits for the skin. It all comes down to the ingredients that each product is made with, that gives them their special consistency.
We hope that you found our feature about the difference between an oil and a serum useful. At Nakin we dedicate our work to producing the highest quality natural anti-ageing skincare, find out more about us online.