The Best Toner to Use After a Cleansing Milk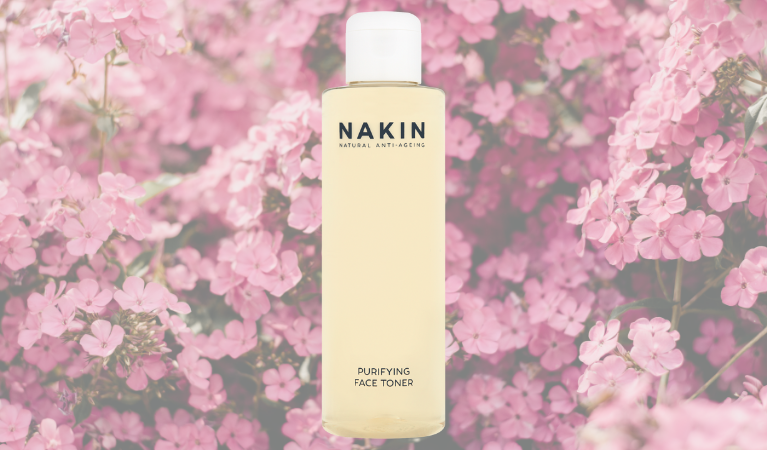 Cleansing milks and face toners go together hand in hand as one of the best ways to cleanse the face and thoroughly clear the skin of make-up, pollution and daily grime, while hydrating and nourishing at the same time. At Nakin we have what we believe is the best face toner to use after a cleansing milk and this is our Purifying Face Toner. It is a natural anti-ageing toner that is filled with some of the best conditioning cleansers available. This includes witch hazel, hyaluronic acid, glycerin, aloe, vitamin E and seaweed extract. These combine together to give a great toning experience with many benefits to skin that are outlined in the list below.
Soothes and calms
Clears and refreshes
Softens and comforts
Hydrates the skin without greasiness
Removes the last traces of cleanser
Helps to balance the pH of skin
Refines pores and makes skin better able to utilise the actives applied afterwards
Our toner is suitable for all skin types, including sensitive skin and it is never drying or stripping like many toners. It can also be used with any type of facial cleanser including face washes, balms, oils and jellies to purify skin, hydrate and condition.
Our cleansing milk and face toner are easy to apply and leave skin feeling soft, hydrated, happy and healthy. When using the Nakin Advanced Cleansing Milk simply apply a coin size amount onto the palms of your hands plus warm and loosen before applying the lotion straight onto the face and neck. Apply with sweeping massaging movements, so as to loosen any daily grime and make-up on the skin. Then remove it by taking some dampened cotton wool and sweeping this all over the skin until all the milk and grime is removed. Then apply the Nakin Purifying Face Toner by soaking it into a cotton pad and sweeping it directly onto the face and neck.
We hope that you found our feature useful about the best face toner to use after a cleansing milk. We believe that cleansing with a milk and toner is one of the best ways to clean the face and neck, while hydrating and conditioning at the same time. The part oil formula cleansing milk is great for removing all kinds of grime from heavy make-up to SPF and pollution. The toner then clears deeper down into the pores to detox and purify.
If you love to shop for good skincare, then take a look at Nakin's range with everything needed in a face care routine. All of our products are exceptionally high quality and offer skin a great natural anti-ageing experience. They are kind to all skin types, plus are cruelty free and made in the UK. Find out more about us below.
      UK Skincare       Sensitive Skincare     Cruelty Free Skincare     Vegan Skincare