The Best Natural Toner for The Face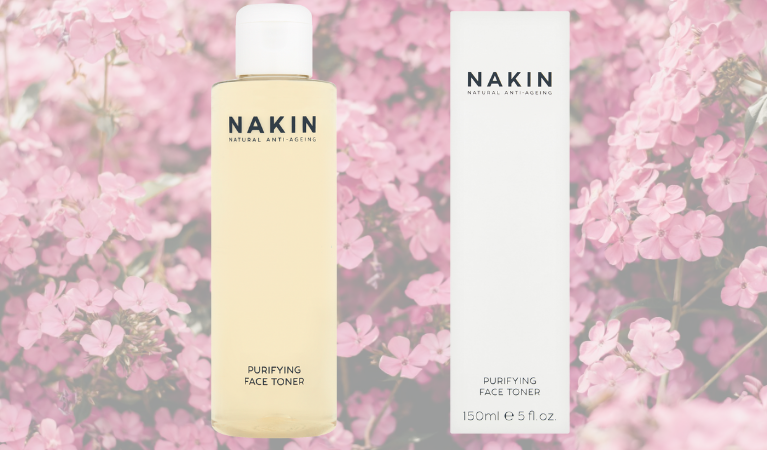 At Nakin we love natural skincare for many reasons and one of these is that we believe plant-based beauty products are so much kinder to skin than synthetic versions. Plant ingredients are naturally filled with nutrients, and these have so many benefits for the skin. Some face cleansers can be especially harsh to the skin when they include synthetic cleansing agents, as they are strong and stripping. Toners fall into this category and often contain powerful ingredients that are too much for the gentle skin of the face. At Nakin we have fantastic cleansers that use plant ingredients to cleanse skin beautifully but without stripping the skin. This is why we believe that we have the best natural toner for the face in our collection. It is a kind facial toner that cleanses and helps skin to prosper at the same time. Find out why our Nakin Purifying Face Toner is so special below.
This toner is the best natural face toner to cleanse skin deep down, while also offering the face and neck extra benefits of nourishing and conditioning skin. It also has natural anti-inflammatory and antibacterial properties that help with congestion and breakouts.
The formula contains modern plant actives that are known to offer immense benefits to skin. This includes ingredients like seaweed, witch hazel, aloe and hyaluronic acid. Gone are the days of the old fashioned glycerin and rose face toners. At Nakin our modern formulas take natural face toning to the next level.
It is a multi-purpose anti-ageing face toner that cleans, calms, balances oil production, delivers moisture and helps skin to best receive the skincare products used afterwards. Some of the other benefits include helping to remove dead skin cells, stimulating cells and delivering a mass of vitamins and minerals to the face and neck.
The wonderful thing about most natural toners and especially this one is it that has been developed to be kind to skin. This means that it does not throw skin off balance as it is made without ingredients like glycolic acid, or strong essential oils and perfumes.
This toner is for all skin types from combination, dry, oily, young and mature - to sensitive and stress prone skin. It is made for daily use in the morning and evening. Afterwards you will notice how fresh and soft that your skin feels.
We hope that you found our feature useful about the best natural toner for the face. We are passionate about natural skin products and the amazing effects that they can have to our skin. Nakin have a complete range of face products to cleanse, treat and moisturise the skin. Find out more about our plant based anti-ageing skincare online, and see why Nakin is becoming the choice of so many.
Sometimes there is confusion between natural face toners and homemade face toners. At Nakin all of our products are produced to the highest standard in excellent manufacturing conditions. They are made in the United Kingdom and with the best clinical practices and procedures, to provide outstanding natural beauty that all skin types will love.