The Best Face Toner for Dry Skin.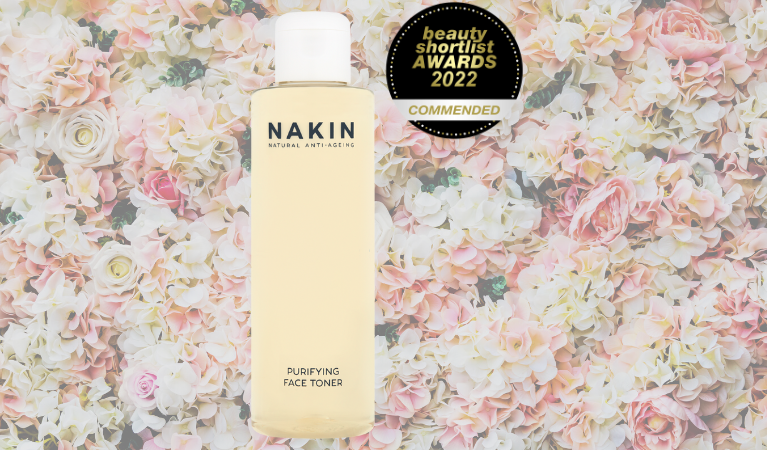 If you have dry skin, then you will appreciate hydration in your skincare, and this includes in facial cleansing products. At Nakin we develop all of our cleansing products to be really kind to skin with their natural plant filled formulas, and this is why we believe that we have the best face toner for dry skin with our Nakin Purifying Face Toner.
Good modern face toners like Nakin's Hydrating Toner do so much more than cleansing and toning skin. They pack lots of actives and extracts into the formula so that they cleanse, tone, freshen and hydrate in one easy sweep. Find out why our face toner is so good and how it benefits dry skin.
After skin is cleansed with a hydrating cleansing milk a toner is used to clear and condition skin further. They help to clear and regenerate the skin layers, removing dead cells and speeding up the renewal process. Our Nakin Natural Anti-Ageing Face Toner also contains lots of skin improving actives that sink into skin when the toner is applied to the face and neck. One of the actives that we use is ultra-hydrating hyaluronic acid. It is one of the best natural ingredients for dry skin as it can hold onto to the moisture in skin cells, keeping them hydrated and plump.
Our face toner instils hydration with a lot of calming soothing qualities as well. This comes from the plant filled formula of Witch Hazel, Glycerin, Aloe Vera and Seaweed. The nourishing qualities are important to give skin a boost and the gentle formula makes our Purifying Face Toner kind to all skin types, including sensitive skin.
The wonderful thing about using a hydrating toner is that it means dry skin is then able to better accept the moisture provided from other face products. If you think of skin like a sponge, when a sponge is wet it is able to soak up more moisture, which is why hydrated skin can become more moisture filled, ensuring dry skin is fresh and dewy.
We hope that you enjoyed our article about the best face toner for dry skin. It is a really lovely product to clear and replenish. We know that some people feel that toners are not an essential part of a face care routine. It is true that they are not as important as a cleanser, moisturiser or sunscreen. However, toners do so much to improve complexions. As well as cleansing, hydrating and conditioning skin themselves, they also help us to get more out of the other products in our routine, such as serum, oil, eye cream and moisturiser. At Nakin we have everything needed for a good face care routine in our award-winning collection.
      UK Skincare       Sensitive Skincare     Cruelty Free Skincare     Vegan Skincare