The Best Eye Cream for Wrinkles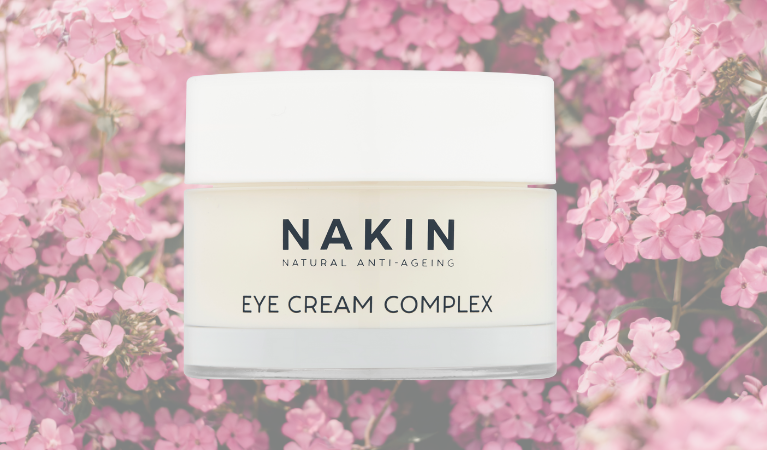 One of the skincare products that many of us find essential is an eye cream, and this is because it tends to work on the area that most shows signs of ageing. The skin around the eyes often makes us look older than we need to. This is because it more easily shows lines and wrinkles, as the skin is thinner and more delicate than the rest of the face. It often results in more stretchy, sagging and wrinkly skin in this area. The great news is that eye creams can do so much for wrinkles, and at Nakin we have a fantastic one. It's our Nakin Eye Cream Complex which we believe is the best eye cream for wrinkles. It also tackles many more beauty tasks to help the skin around the eyes look fresh and bright. Read on to find out what makes our Anti-Wrinkle Eye Cream so special.
If keeping the skin around your eyes is important to you then we definitely recommend using a good eye cream for wrinkles and using it religiously in the morning and evening. There are so many eye creams around that it can be difficult to choose the best one for you. So, at Nakin like all of our products our Natural Eye Cream has a multi-purpose formula to help with all the requirements needed for the eye area.
Our Eye Cream Complex contains exactly what is needed to help naturally repair lines and wrinkles in the delicate eye area. It is such an effective eye cream at smoothing wrinkles as it contains some amazing natural ingredients. The eye cream has lots of reviving botanicals to really improve the skin, one of them is hibiscus extract which is a peptide known as a natural Botox for smoothing lines. When our cream is applied topically to the eye area the lines and wrinkles will be immediately smoothed out. However, we must state that it is a natural ingredient and will not show such noticeable effects as Botox. Instead, it is completely natural and kind to skin. Everyone should see some noticeable results straight away, but it can take a few months for the new skin cells to come through for the full effect, and we recommend using it twice a day.
The wrinkle smoothing is just one of the effects of our gorgeous eye product as it also helps with hydration, dark circles and puffing. This is from the rest of the amazing formula which includes hyaluronic acid, pomegranate, green tea and marine extracts. These are powerful rejuvenating plant actives, that help to keep eyes looking as good as they can naturally.
Customers also love our eye cream for so many other reasons, and this can be seen from the masses of certified customer reviews. The cream is made in the UK, plus is vegan and cruelty free, being registered with the Leaping Bunny Scheme. It's also fragrance free and super kind, so as well as being for all skin types, it is beautiful for those with sensitive skin.
To find out more about Nakin and our natural anti-wrinkle creams take a look online at www.nakinskincare.com Our products are filled with amazing plant extracts and actives which benefit all skin types. They work on skin ageing prevention and correction, but naturally and without being harsh to skin. The natural formulas are free from harsh ingredients like parabens, retinol, artificial fragrance and colour.