The Best Affordable Natural UK Facial Oil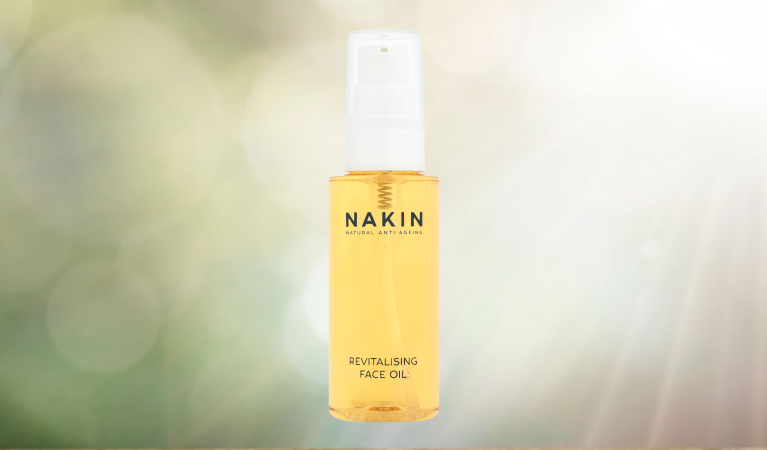 At Nakin we have a full range of facial skincare and one of our most nourishing caring products is our Revitalising Face Oil. It offers so many amazing properties to the face and neck, and better still it is made in the of 100% natural ingredients and is great value. This is why we believe that it is the best affordable natural face oil in the UK. Natural skincare science has come on so much in recent years and this has allowed us to formulate such an exquisite product. New customers are always surprised at the high quality it offers at an accessible price.
Our affordable natural UK facial oil is made with a carefully chosen blend of natural, vegan ingredients that are specially formulated to nourish and protect your skin. Rich in antioxidants, essential fatty acids, vitamins, and minerals - this natural oil helps to reduce signs of ageing while boosting skin's hydration and elasticity. This facial oil provides lightweight yet deeply hydrating moisture without clogging pores or irritating sensitive skin. The light yet luxurious formula absorbs quickly into the skin, leaving it feeling soft and smooth with an instant healthy glow. Perfect for all seasons and suitable for all skin types, our Revitalising Face Oil is a must-have addition to any skincare routine. With regular use you will be sure to notice an improvement in the overall health, appearance and feel of your skin. So do not wait any longer – get on board with this amazing natural oil today.
You can use our affordable natural UK facial oil either as a twice daily treatment after serum but before moisturiser, or as part of your facial massage routine. Simply apply a couple of drops to clean skin after cleansing, toning and serum plus massage into the face and neck until it is fully absorbed, then follow up with moisturiser. The best part is that you don't need to worry about harsh chemicals or synthetic fragrances – this light yet luxurious oil contains only natural vegan ingredients and is made in the UK. And because it's free from artificial preservatives, parabens, mineral oils and SLS, you can trust that this facial oil will help keep your skin looking and feeling healthy. Try it for yourself today and you will not be disappointed.
At Nakin we believe everyone should have access to quality skincare products without breaking the bank. That's why we're proud to offer our natural facial oil at an affordable price, so you can look after your skin without compromising on quality or effectiveness. So start investing in your skin health now and experience the deep nourishment and protection it provides. With regular use, your skin will thank you for it.
As with all of Nakin's products, it is important to us that our facial oil is made in the UK and also that it is affordable. You can find out more about our skincare and the rest of our anti-ageing product range in the information below.
    UK Skincare      Sensitive Skincare     Cruelty Free Skincare     Vegan Skincare