Star Style – Beauty Secrets from Kate Moss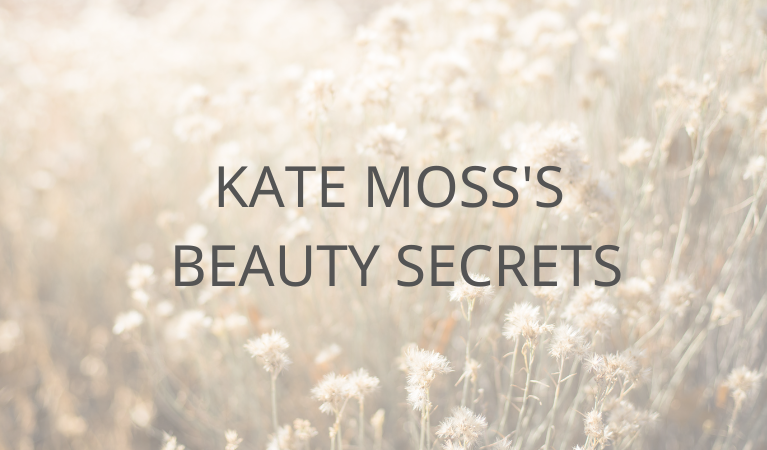 Kate Moss is a beauty icon that everyone loves, and she recently opened up to Vogue Magazine about her beauty secrets. At Nakin Skincare we love them as they incorporate lots of natural wellbeing, which is how we believe that beauty should be.
Kate Moss's Wake Up Routine
When she wakes up she has a herbal tea that has an alkaline effect, which can work to neutralise acidity in the body. She also lights a rose quartz candle to bring some peace and calm to the start of the day. In recent years Kate has had a complete change to her lifestyle and is taking much better care of herself. She meditates regularly and does astanga yoga flow three times a week. The results speak for themselves as she looks amazing, and feels so much more grounded and balanced.
Kate Moss's Morning Skin Care Routine
Kate starts with a natural cleanser and toner and then uses a gua sha massage tool. This is something that she learned on modelling jobs, as the make-up artist would incorporate this into the skincare preparation. Kate then uses a delicately scented natural face cream as she loves the healing power of a kind natural face cream, because they work well even for troubled sensitive skin. She finishes her skincare routine off with a lip balm and SPF, which has been particularly encouraged by her daughter. Kate has her own range of skincare products but if you are looking for affordable alternatives then our range at Nakin incorporates everything that is needed in good natural skincare products. Find out more about our range below.
Kate Moss's Make Up Routine
Kate's daily make-up routine is fairly low key, although she is more adventurous for a night out. Kate loves make-up and is from the days of grunge where she just used some black eye liner and a bit of blush. Nowadays she uses eye shadow and mascara when going out but keeps her daytime look more natural. She uses two different coloured concealers which she buffs in with a beauty blender sponge, one on the face and a lighter one under the eye. She then applies powder bronzer with a brush and curls her eyelashes with a curler. Next for Kate is to apply a product to her eyebrows to thicken up any patchy areas, plus use a lip tint. She then sprays on a texturizing hair product to help achieve her signature undone hair look.
We hope that you found our feature interesting about Kate Moss's beauty routine. She really is a beauty icon, and it is lovely that she shared this information with us all. We love her practices as they are incorporate selfcare and taking time for ourselves.