Retinol Free Face Treatments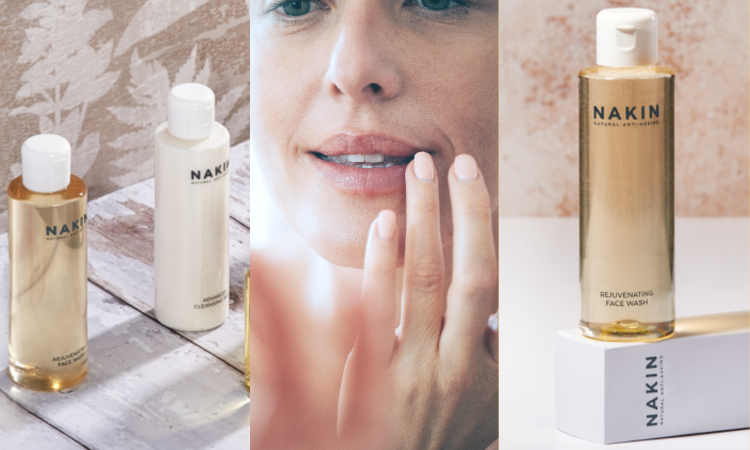 At Nakin all of our products are free from retinol as instead we prefer to use plant actives and extracts as these can have some wondrous effects on the face and neck, but without the sensitivity issues that retinol can cause. We try to make our natural anti-ageing skincare to be kind to even very sensitive skin and we believe in the power of plants to helps skin to look its best and allow it to flourish and thrive. Instead of using retinol all of our anti-ageing face products contain botanical ingredients that are able to smooth and ease away lines and wrinkles, plus cleanse, hydrate, tone and condition the face and neck.
When it comes to taking care of your skin, retinols have become a popular choice due to their ability to boost collagen and reduce the appearance of wrinkles. However, there are alternatives out there for those who want to avoid the potentially harsh side effects that come with using retinol-based products. Nakin's retinol-free face treatments provide an effective alternative for those looking for a gentler solution without sacrificing results.
Nakin's range is also free from many other unwanted cosmetic ingredients, and this includes artificial fragrance and colours, all types of parabens, sodium lauryl sulphate, PEGs, mineral oil, and silicones.
Our retinol free face treatments employ natural ingredients such as hyaluronic acid, natural ceramides and peptides which help deeply nourish and restore moisture balance in the skin, while providing powerful antioxidant protection from environmental damage. Our formulas also often include skin brightening agents like seaweed and fruit enzymes which help to even out skin tone, reduce hyperpigmentation and improve clarity.
At the same time, an array of botanical extracts such as green tea, aloe vera and jojoba provide calming relief for redness, dryness and other skin irritations. These ingredients work together to refine the appearance of pores while providing antioxidant protection against oxidative stress that can lead to premature signs of ageing.
Overall, our retinol-free face treatments are a great choice for those looking for gentle yet effective solutions to their skin care concerns, without having to worry about any harsh side effects associated with using retinols. With regular use, our treatments can help keep your skin looking healthy, radiant and youthful. So why not give Nakin's natural skincare and you may just find that they are the perfect addition to your skin care routine.
We hope that you can try our retinol free face products, as they are essential to provide our skin with all the nourishment it needs to stay healthy and looking its best. Our whole range is high performing and you can find out more about us in the links below.
Discover our award-winning natural anti-ageing cleansers.
Discover our award-winning natural anti-ageing face treatments.
Discover our award-winning natural anti-ageing moisturisers.
Discover our award-winning natural anti-ageing eye cream.
Discover our award-winning natural anti-ageing lip care.
Discover our complete collection of natural anti-ageing products where there are face products that help with every skin beauty requirement.
      UK Skincare      Sensitive Skincare     Cruelty Free Skincare     Vegan Skincare