Normal to Oily Skin Cleanser: Try Nakin's Luxurious Natural Anti-Ageing Wash for Oily & Normal Skin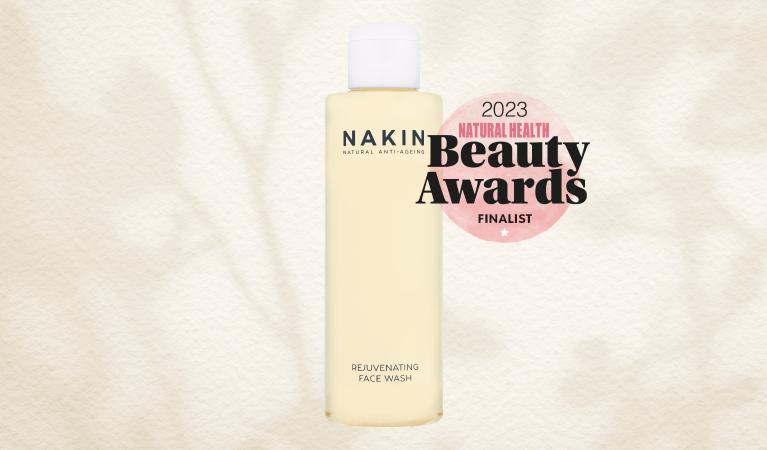 If you have normal or oily skin and are looking for a fantastic face cleanser then we recommend trying our Nakin Rejuvenating Face Wash. It's a stunning natural anti-ageing face wash that is filled with some amazing plant cleansers to give skin a beautiful cleanse, while conditioning at the same time. If you look at the ingredients list you will see a lots of outstanding plant actives and extracts including masses of fruit enzymes, sugar cane, sugar maple and hyaluronic acid. It is the perfect cleanser for oily and normal skin, plus is also suitable for combination and sensitive skin, plus dry skin types that prefer a foaming wash. Keep reading to find out why it is such a fabulous cleanser for the face and neck, including normal and oily skin types. Alternatively we have a cleansing milk that is equally as lovely, as well as our toner and exfoliator, which can all be found in our natural face cleanser section.
A face wash can be hard to beat if you like that really thorough cleanse for your face and neck. Keep your skin looking and feeling great with our Rejuvenating Face Wash. When it comes to taking care of your skin, choosing the right products for your skin type is essential in maintaining skin health. If you have normal or oily skin, you may be constantly searching for a high-quality cleanser that can effectively remove dirt, excess oil, and impurities from your skin without leaving it feeling stripped or dry. This is where our Rejuvenating Face Wash can help, a natural, cruelty-free, and vegan cleanser that is specially formulated for all skin types, including normal and oily skin. In this post, we'll discuss all the reasons why this cleanser should be the next addition to your skincare routine.
1. Formulated with Gentle & Natural Ingredients: One of the standout features of Nakin's Rejuvenating Face Wash is that it uses a blend of gentle, yet effective, natural ingredients that are great for normal and oily skin. The cleanser is enriched with lots of hydrating and nourishing cleanses, that cleanse without clogging pores. Additionally, it contains calming ingredients, which soothe inflammation and acne-prone skin. The cleanser also includes hyaluronic acid, which helps to retain moisture within the skin, making it look and feel supple and plump.
2. Suitable for All Ages: Whether you're in your twenties or well into your seventies, our Rejuvenating Face Wash is an excellent cleanser for all ages. Many people who are looking for a suitable cleanser often struggle to find one that caters to their specific skin type and age, as many cleansers are unnecessarily harsh. Nakin's Rejuvenating Face Wash is formulated to be gentle but effective, making it a great choice for those with normal or oily skin looking for daily cleansing.
3. Ethically-Sourced and Cruelty-Free: Our Rejuvenating Face Wash is an entirely cruelty-free and vegan product, which is fantastic for those who are ethically conscious of what goes into their skincare products. Our brand is known for its strong commitment to using only sustainable and clean ingredients, without any parabens and glycols found in mainstream cleansers.
4. Great for Cleansing without Over-Drying: One thing that many people with oily or normal skin types encounter with their daily cleanser is their face feeling over-dried and stripped of its natural oils. Nakin's Rejuvenating Face Wash is formulated to provide a deep cleanse without causing excessive dryness. The cleanser's gentle ingredients work together to remove impurities and excess oil, leaving your skin feeling renewed and fresh.
5. Visible Results: Nakin's Rejuvenating Face Wash has received positive reviews from many satisfied customers who report seeing visible results after using the product regularly. Despite being a gentle cleanser, it has proven to be very effective in cleansing and revitalising skin, leaving it brighter and smoother and reducing the appearance of fine lines and wrinkles.
If you're still in search of a high-quality cleanser that caters to your skin type's unique needs, look no further than Nakin's Rejuvenating Face Wash. Made with a blend of gentle, natural ingredients and free from harsh chemicals and synthetic additives, this cleanser is great for cleansing normal or oily skin, plus lit is lovely for other types too. Not only will it leave your skin feeling refreshed and revitalised, but it's also ethically sourced and cruelty-free. So, go ahead and give it a try and experience the nourishing and rejuvenating properties for yourself. You can find it with the rest of our natural anti-ageing face products online at www.nakinskincare.com