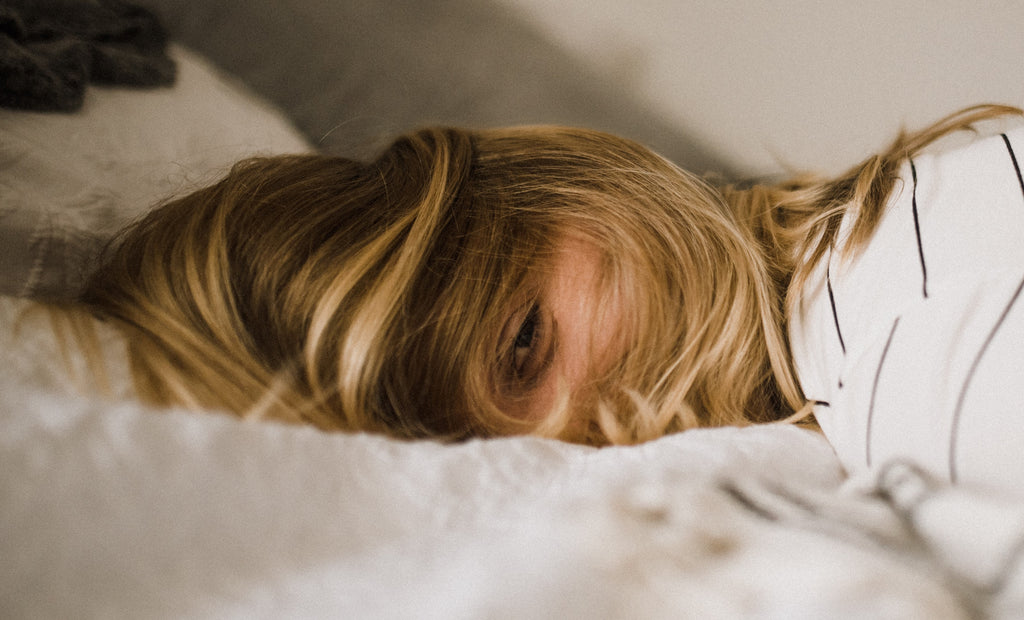 During the night as we sleep skin regenerates itself and repairs the damage caused through the day. We can assist this by using the best natural skincare products at bedtime. Applying these to a clean face and neck before bed will provide skin with nutrients and hydration, to boost the regeneration process and help you wake up with fresh smooth glowing skin.
It's important to note that you do not need a special night cream for this, you just need a good face cream like our Nakin Active Dew Face Cream for normal/ dry and sensitive skin, or our Nakin Matt Formula Face Cream for normal/ oily and sensitive skin. These both work brilliantly as day and night cream moisturisers. Some creams that are formulated for night-time use are too rich and can just clog pores. There seems to be this belief that has developed over the years that a night cream should be rich, but this is not true. At night our skin is not subjected to the barrage of issues like stress, the weather, environment, pollution and lifestyle choices. It does have to contend with dry indoor air and screen lights, but mostly when we are actually asleep it is usually resting in a pretty calm atmosphere. So, it needs protection as it does in the day and a boost of hydration, vitamins, minerals, omegas and antioxidants to help boost the face cells, strengthen the skin, calm any irritation and repair damage. The only thing to take care of is not to use a face cream with SPF in at night, as this would be putting unnecessary ingredients onto the skin.
What Makes A Good Night Cream?
At Nakin we are beauty and skincare addicts and from our knowledge of face products we have compiled the following list of what makes a good night cream, for perfect skin in the morning. The good news is that it's not about the cost of the night cream. We have all been bamboozled by skincare marketing products that promise the world for a hefty price tag, but the cost of a product does not make a good night cream. Many of the essential requirements to a fantastic natural night cream only require the right consistency and natural powerful plant extracts. Follow our list below to see what makes the perfect night cream:
A good cream will assist with collagen stimulation because it will naturally include collagen boosting ingredients like omega oils and plant sourced vitamin C.
A long-lasting cream is required, so that even when you wake you still feel it working its magic.
A cream that tackles lines and wrinkles through prevention and repair is essential. This includes dealing with lines around the eyes, mouth, forehead and all over the face and neck.
Steer clear of retinol and vitamin C unless it is from 100% natural sources such as plant oils. This is because true retinol and vitamin C are both irritating and sensitising to skin.
A good night cream will calm and soothe skin, as sensitivity is now one of the biggest skin concerns and it can develop at any time.
Good creams help with marks on the face and to correct an uneven skin tone and dark spots.
A good night cream will provide good moisture to skin to hydrate dry skin and protect it from the dry indoor air.
Good creams deliver a large quantity amount of antioxidants to skin to prevent and repair damage; this includes vitamins, minerals and omega oils.
When you wake up to hydrated, energised and alive skin, then it's a sign of a good cream.
Which Night Cream Is Best?
We have looked at the beauty concerns that a good night cream will address, as well as offering these benefits to skin, we believe that a good night cream should also meet the criteria listed below. This can be summarised as saying that the product must be natural, kind to skin and suitable for your skin type. Always pick a night cream with the following properties:
Made with natural plant actives and at least 98% natural.
Packed with natural hydrating, protecting and conditioning ingredients.
Made without harsh anti-ageing ingredients like chemically produced retinol and vitamin C.
Right for your skin type be it oily, normal, dry, combination or sensitive; as some night creams are specifically made only for a particular skin type.
Kind to even sensitive skin.
What Happens to Our Skin at Night?
During the night when we sleep our skin works to overcome any damage caused during the day; as well as helping skin with restoration due to an increase in the hormone's melatonin and human growth hormone. During the night our skin needs similar care to the products that look after it during the day, apart from sunscreen. It needs nutrients to keep it healthy and to heal past skin damage, and protection from the air and stressors.
At night our skin does not have to contend with environmental stress from things such as car fumes, cold weather and wind; instead it needs protection from internal stress in the home such as dry air and computer screens. More and more of us are using screens in bed when we look at our phone, computers and televisions and they emit blue light, also called high energy visible light. A good natural protecting moisturiser like Nakin's Active Dew Cream for normal, dry and sensitive skin plus our Matt Formula Face Cream for normal, oily and sensitive skin help to protect skin with an invisible shield against such stress. They also provide long lasting hydration, which is important during the night due to the air indoors. Indoor air is drier than outdoor air, so a hydrating cream at night is a must to prevent trans-epidermal water loss and stop water evaporating from the dermis and epidermis. As well as providing a barrier that water cannot penetrate a cream will deliver emollients that get deep into skin to condition, hydrate and protect young and old skin cells.
How to Use Night Cream?
There is no fancy technique or method to using a night cream, it will most likely follow a similar routine to the morning. The only difference is that if you use a heavy sunscreen or make-up foundation in the morning then you may want to apply a slightly less amount of creams and treatments to skin in the morning. Follow the steps below to use your night cream effectively:
To find out more about Nakin and our stunning plant based skincare then visit us at www.nakinskincare.com Nakin believe in the power of nature to beautify skin without the use of harsh ingredients. Nakin's skincare boosts all skin types, including sensitive skin with our full range of cleansers, moisturisers, eye creams, lip balm plus serum and oil treatments. The full range is cruelty free and made in the UK.