How Face Oils Help Dry Skin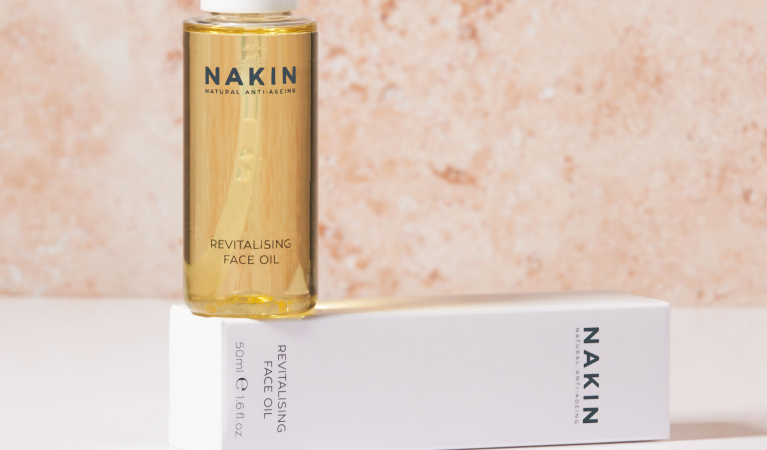 Hydration is the holy grail of good skin as when it is dry it can lead to dullness, sensitivity and prevent our face and neck from looking energised and alive. Hydrated skin on the other hand looks healthy, youthful and glowing. We tend to think of moisturisers as being the main way to hydrate our face and neck, and this is true, but face oils can also offer an incredible boost to dry skin with their intense nourishing ability. We recommend using a natural one for this like our Nakin Revitalising Face Oil, which is packed with moisture boosting plant ingredients for calm happy and hydrated skin.
Our face oil provides relief from dry skin by helping to maintain the skin's natural moisture barrier. This is done by providing hydration, locking in moisture and preventing water loss. By using our face oil, you can help restore your skin's balance and improve its overall appearance. Our face oil is also rich in essential fatty acids, which help to soothe and protect the skin against damage from environmental factors such as pollution and sun exposure. Additionally, it contains antioxidants that help fight free radical damage and reduce inflammation. This is because it is enriched with vitamins and minerals to promote healthy cell renewal. All of these benefits make our face oil an ideal choice for those looking to give their dry skin much-needed hydration and care.
Our natural anti-ageing face oil is packed with natural antioxidant and anti-inflammatory properties which help to repair the skin barrier and protect it from environmental damage. The oil contains a blend of rich fatty acids that deeply hydrate the skin, leaving it feeling silky smooth and replenished. From sweet almond to grape seed oil, the oil provides your face with an abundance of vitamins, minerals, and antioxidants to nourish and protect while restoring elasticity. With regular use of our Nakin Revitalising Face Oil, you can enjoy deep hydration that will help keep dryness at bay while helping to reduce fine lines, wrinkles and signs of premature ageing. It is suitable for all skin types - even sensitive ones - and can be used day and night to give your skin the ultimate boost.
Face oils are suitable for all skin types, but more so for those with dry or mature skin. If you have an oily complexion, you can still use face oils but opt for lightweight formulas like ours, that contain high-quality botanicals which help to balance the skin's natural sebum production. When applying our face oil, start by cleansing your face and using serum, and then apply a few drops of it onto your palms and rub together before pressing into the skin. Massage gently in circular motions until fully absorbed. To maximize their effects, it is best to apply face oils twice daily – morning and night.
At Nakin we have a full range of hydrating anti-ageing face products. Everything is made in the UK and cruelty free registered. Read all about Nakin and our award-winning products online at www.nakinskincare.com