Exfoliator for Ageing Skin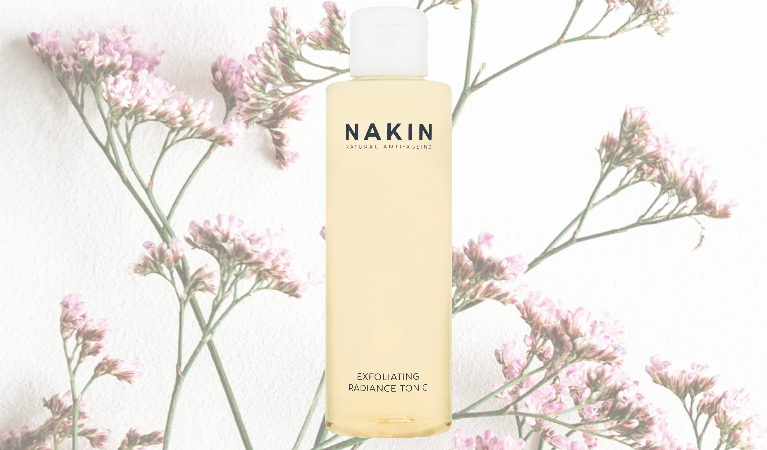 One of the little-known things about a good exfoliator is how anti-ageing they can be. Lots of us tend to associate them with deep cleaning the face and giving skin and instant boost. However a good one like our Nakin Exfoliating Radiance Tonic is incredibly anti-ageing due to its renewal properties.
Ageing skin can be unwanted for anyone who wishes to maintain their youthful glow. Ageing skin often loses moisture and elasticity, resulting in a dull and lifeless appearance. Thankfully, with the right products, you can help promote healthier, more youthful-looking skin. Nakin's Exfoliator Radiance Tonic is just one of those products that can help you achieve a more radiant and youthful complexion. In this blog post, we'll explore the many benefits of Nakin's Exfoliator Radiance Tonic and how it can improve ageing skin.
Deeply Exfoliates the Skin
The first and most obvious benefit of Nakin's Exfoliator Radiance Tonic is that it deeply exfoliates the skin. As we age, our skin becomes less efficient at shedding dead skin cells, resulting in a dull and lacklustre appearance. The Exfoliator Radiance Tonic is formulated with natural AHAs and enzymes, which break down dead skin cells and promote cell turnover. The result? Brighter, more luminous skin.
Reduces the Appearance of Fine Lines and Wrinkles
Fine lines and wrinkles are a natural part of the ageing process, but that doesn't mean we have to live with them. Nakin's Exfoliator Radiance Tonic contains hyaluronic acid, a potent hydrating ingredient that helps to plump up the skin, reducing the appearance of fine lines and wrinkles. Hyaluronic acid also helps to stimulate collagen production, which further improves the overall tone and texture of the skin.
Prevents Breakouts
With age, the skin's natural exfoliation process slows down, which can lead to clogged pores and breakouts. Nakin's Exfoliator Radiance Tonic helps to unclog pores and prevent breakouts by gently exfoliating the skin. It contains a combination of natural AHAs, which work together to deeply penetrate the skin and eliminate impurities.
Boosts Radiance and Smoothens the Skin
Finally, Nakin's Exfoliator Radiance Tonic boosts radiance and smoothens the skin. The natural fruit extracts and AHAs help to exfoliate the skin, revealing a brighter, more luminous complexion. The tonic also helps to refine the skin's texture, making it smoother and more even toned.
Nakin's Exfoliator Radiance Tonic is an excellent product for anyone who wishes to improve the appearance of ageing skin. It contains a potent blend of natural ingredients that work together to deeply exfoliate the skin, reduce the appearance of fine lines and wrinkles, balance the skin, prevent breakouts, and boost radiance. If you're looking for a product that will help you achieve a more youthful and healthy-looking complexion, be sure to give Nakin's Exfoliator Radiance Tonic a try. Your skin will thank you for it, along with trying the rest of our natural face products which are all made in the UK and cruelty free. Everything can be found online at www.nakinskincare.com