Discover Natural Beauty Products That Work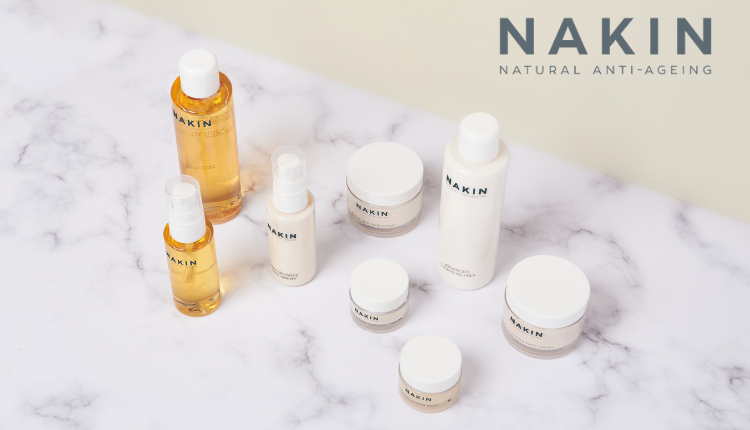 The natural beauty market has grown in recent decades, fuelled by the demand for kind and healthy products. This is lovely, but it also makes it harder to find natural beauty products that really work. At Nakin we dedicate our work to producing amazing anti-ageing skincare that helps to prevent and correct the signs of skin ageing. Nakin is a modern company and so we use high performance modern natural ingredients. This includes special actives like hibiscus extract, which is a completely natural line smoother for skin; plus pomegranate extract which fights off skin damage due to its incredible antioxidant care. Nakin differ from many natural skincare companies, as we offer the best natural skincare products. We notice all the time that some brands produce products that are made with some natural ingredients, but in reality, they contain very little plant content. This is not the case with all products of course, it is just something to be careful of.
All of Nakin's collection is both natural and anti-ageing, and this is the only type of skincare that we do. Our skincare helps skin to look as good as it can naturally, to offer natural beauty products that are gorgeous and high performing. Discover the products in our range below.
We hope that you found our feature helpful about Nakin's range and discovering the best natural beauty products. There are so many products to choose from that it is hard to know which ones are really natural, and what products will be best for your skin. At Nakin we love living a natural healthy lifestyle. When it comes to skincare products, we believe in using natural skincare that is kind to skin. The nice thing is that amazing natural skincare products like Nakin's are really nourishing and boosting to skin, as they are filled with the best plant ingredients. Following a good skin regime morning and evening, as well as using cruelty free skincare is the best way to keep your skin clean, smooth and glowing. At Nakin we believe in looking as good as we can naturally, and this is why we developed our award winning anti-ageing skincare range. A healthy lifestyle combined with always using the best skincare products is one of the easiest things you can do to enhance your look naturally.
Nakin are dedicated to achieving beautiful skin at every age using the best natural ingredients. To find out more about Nakin and our award-winning anti-ageing skincare then visit us at www.nakinskincare.com Nakin produce natural face products for all skin types, including sensitive skin. The full range can be found here and is designed to help skin to thrive and flourish by using the best plant active ingredients. Everything is cruelty free and made in the UK. If you would like to get in touch with Nakin then please email us at info@nakinskincare.com We would love to hear your thoughts and are also available to offer skincare and product advice.