Anti-Ageing Natural Face Remedies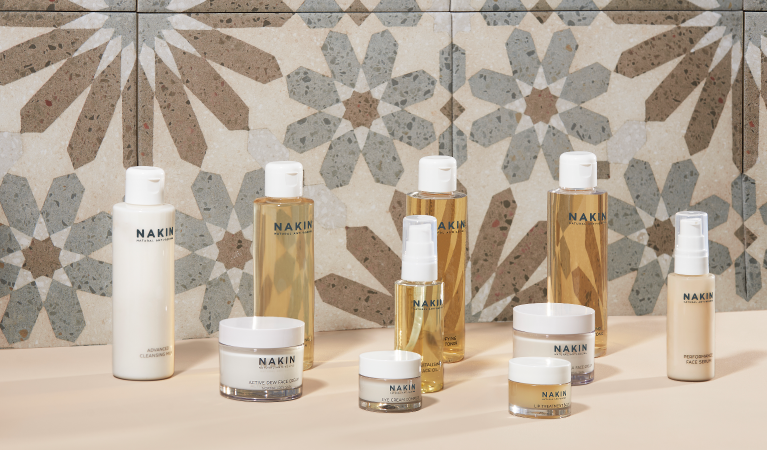 At Nakin we love anti-ageing natural face remedies and see all of our natural anti-ageing skincare as a remedy, because it is made with healing plant ingredients.
Nakin's natural face remedies are designed to reduce the signs of ageing using high performing botanical cosmetic ingredients. Our products contain powerful ingredients which help promote collagen production and hydrate skin, keeping it healthy, supple and youthful looking. We use a combination of plant actives like seaweed extract, argan oil and aloe vera to nourish your complexion while giving you the results you love. Our anti-ageing face products are created with cruelty-free formulas that don't contain any harsh chemicals like retinols or parabens, so you can feel confident that you are taking care of your skin and doing good for the planet at the same time. With regular use, our natural face remedies will leave your skin looking rejuvenated and glowing with health.
One of the most powerful anti-ageing natural face remedies that we use is a completely natural peptide derived from hibiscus. It is a very powerful anti-ager that we love as it can instantly ease out lines and wrinkles on the face and neck.
One of our favourite natural face remedies is actually jojoba oil. Jojoba oil is similar to our own skin's sebum and is rich in vitamins and minerals that help to nourish and hydrate the skin, while its antimicrobial properties can help reduce wrinkles and age spots. It also contains fatty acids which are essential for healthy, youthful looking skin.
Another popular anti-ageing natural remedy that we use is hyaluronic acid. Hyaluronic acid is well known in the beauty industry for its superb moisture building and hydrating ability. These properties help to keep skin looking fresh and plump.
Seaweed has long been known to have healing properties and offers a variety of benefits for ageing skin using the powers of the sea. Its revitalising properties help to soothe dry and irritated skin, while its anti-inflammatory properties help to reduce the appearance of wrinkles and fine lines.
Witch hazel is another natural remedy that we use to help promote younger looking skin. Witch hazel is known for its antibacterial and antifungal properties which can help to detox skin plus clear up blemishes, acne and other skin conditions. Additionally, it can also help to reduce signs or premature skin ageing due to its anti-inflammatory effects.
These are just some of the natural remedies that we use in our cleansers, treatments and moisturisers that are all very effective in reducing signs of ageing while nourishing and hydrating the skin, making them ideal choices for all skin types. Remember, however, that consistency is key when using any anti-ageing remedy, so use our products regularly for optimal results.
By utilising these anti-ageing natural face remedies in our skincare, you can help restore youthful radiance and suppleness to your skin, for a more youthful appearance. Using our award-winning natural products means that anti-ageing results can be achieved without the need for strong synthetic ingredients like retinol and silicones.