Amazing Skincare Products For Sensitive Skin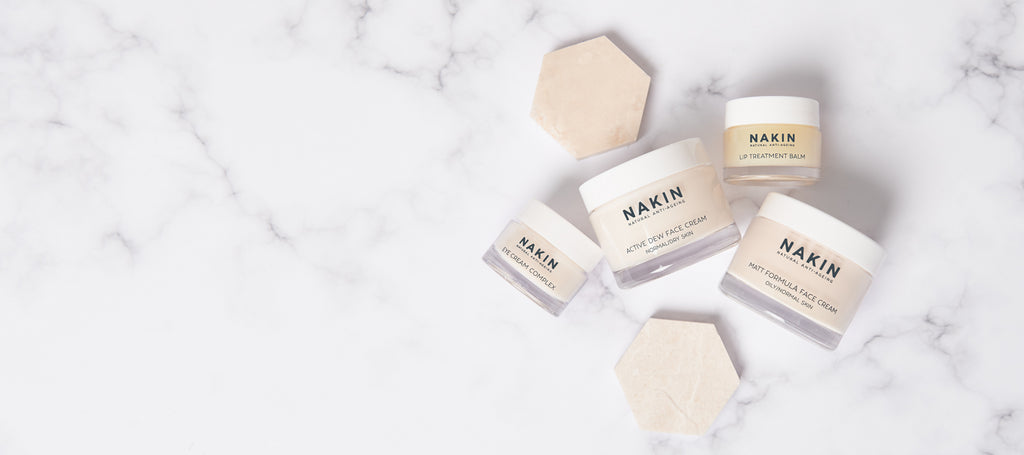 If you have sensitive skin, then you know how important it is to find the right skincare products to help it flourish. The wrong products can be detrimental to skin and cause irritation and reactions, which throw skin off balance. But this need not happen when the right face products are used. At Nakin we produce award winning natural skincare, with an aim to make skin look as fabulous as possible. Natural skincare utilises the power of plants to beautify skin and is also made without harsh ingredients like artificial fragrance, that can bring sensitivity on. At Nakin all of our face products are as natural as possible and are also free from ingredients like paraben, PEGs, silicones, SLS, mineral oil and artificial colour. They are also free from harsh anti-ageing ingredients like retinol and synthetic vitamin C. The important thing for sensitive skin, and all skin types, is to use calming face products that improve and boost skin. Read on to find out why Nakin's range are the best products for sensitive skin.
Nakin's range is a calming line that is made for all skin types, including sensitive skin. Nakin is a company made around the concept of having amazing skin naturally. All the face products utilise the best plant extracts like hyaluronic acid, pomegranate, hibiscus, marine extracts plus luxury oils and butters. They are specially formulated with incredible natural ingredients that help skin to look as good as it can. This means that they are incredibly anti-ageing and are some of the best anti-ageing skincare products for sensitive skin. They are also gorgeous to use, so light up your day with some luxurious pampering.
The Best Cleansers for Sensitive Skin
If you have sensitive skin, then you know how important it is to use the right face cleanser that cleans beautifully and calms at the same time. It is a delicate balance between effectively cleansing the face and neck, but without causing irritation or dryness to skin. The Advanced Cleansing Milk is extremely comforting to sensitive skin. It removes make-up and daily dirt morning and evening, while being kind and without stripping skin. Effective cleansing is essential for all skin types as it removes dead skin cells, so never miss this step just because your skin is sensitive. Instead use an effective kind cleanser, so skin looks healthy clear and smooth. When removing your cleanser take care not to rub too hard or use water that is too hot or cold. After the cleansing milk use the Purifying Face Toner which is lovely for sensitive skin as it removes the last traces of cleanser, revives and clears skin; but without being harsh in any way.
Eye Cream for Sensitive Skin
After skin is beautifully cleansed it means that actives and face creams applied afterwards can better work their magic. The skin around the eyes is usually more susceptible to sensitivity as it is thinner than the rest of the skin on the face. This delicate nature means that eyes benefit from a hydrating, nourishing and comforting eye cream. Our Eye Cream Complex is lovely for sensitive skin as it gives skin around eyes silky soft hydration and combats dark circles, wrinkles and puffing at the same time.
Serums & Oils for Sensitive Skin
Skin treatments like oils and serums can really improve sensitive skin as they enhance the skin barrier, making it stronger and less susceptible to changes in the environment. A lot of people with sensitivity have a weak skin barrier, so it is important to keep it as strong and healthy as possible. A good face oil can instantly calm sensitive skin, as it will contain special skin loving plant oils that contains masses of nutrients. Our Revitalising Face Oil is one of the best natural face oils available as it contains skin enhancing plant oils that hydrate, calm, condition and energise skin. Then follow the oil with our Anti-Ageing Face Serum which is one of the best serums available to help with a multitude of skin requirements like hydration, lines, wrinkles, UV damage and an uneven skin tone. It is like a light lotion but perfect for all skin types, including sensitive skin - as like all our products it is made with skin loving plant actives. It also smells beautiful with a delicate scent, similar to freshly washed linen. Many people with sensitive skin fear anti-ageing products. However, if the anti-ageing products are natural like Nakin's and free from harsh ingredients like retinol and synthetic vitamin C, then sensitive skin will benefit. The face products to avoid for sensitive skin are things like chemical exfoliants and resurfacers, as well as the synthetic ingredients that we mentioned like retinol. At Nakin we use natural line smoothers like hibiscus and powerful antioxidants like pomegranate extract. Our use of potent natural actives boosts skin without any negative effects on skin.
Face Cream Moisturisers for Sensitive Skin
Good natural hydration, nourishment and protection is essential for sensitive faces. This does not mean using a really thick cream which will just sit on the surface of the face and neck. The best face creams will sink in beautifully and last all day long to hydrate and protect skin morning and evening. Our Matt Formula Face Cream is a moisturiser for oily, normal, combination and sensitive skin. It provides long lasting smooth hydration without greasiness. The Active Dew Face Cream is for dry, normal, combination and sensitive skin. It gives a dewier finish with a long-lasting formula. They give skin a healthy plump glowing look, and also protect from the environment, stress and skin zapping pollution.
Lip Balms for Sensitive Skin
Lips can be sensitive just like the rest of the face. It often shows in irritation, cracking and sometimes itching around the mouth. Sensitive lips can be really annoying, and many lip balms only serve as a barrier to protect lips from the cold, instead of nourishing with amazing ingredients. Our 100% natural Lip Treatment Balm is a godsend for sensitive lips. This is because it is full of the best ingredients to soften, hydrate and comfort even very dry lips, with amazing plant oils and butters.
We hope that you found our feature helpful about the best skincare products for sensitive skin. If you are already using Nakin's range, then rest assured that it is lovely for all skin types. All Nakin's products are like a second skin and work in harmony with our face and neck, so as not to cause skin sensitivity. The important thing is to always use the best skincare products.
Nakin are dedicated to achieving beautiful skin at every age using the best natural ingredients. To find out more about Nakin and our award winning anti-ageing skincare then visit us at www.nakinskincare.com Nakin produce natural face products for all skin types, including sensitive skin. The full range can be found here and is designed to help skin to thrive and flourish by using the best plant active ingredients. Everything is cruelty free and made in the UK. If you would like to get in touch with Nakin then please email us at info@nakinskincare.com We would love to hear your thoughts and are also available to offer skincare and product advice.