Alternative to Dermalogica Skin Smoothing Cream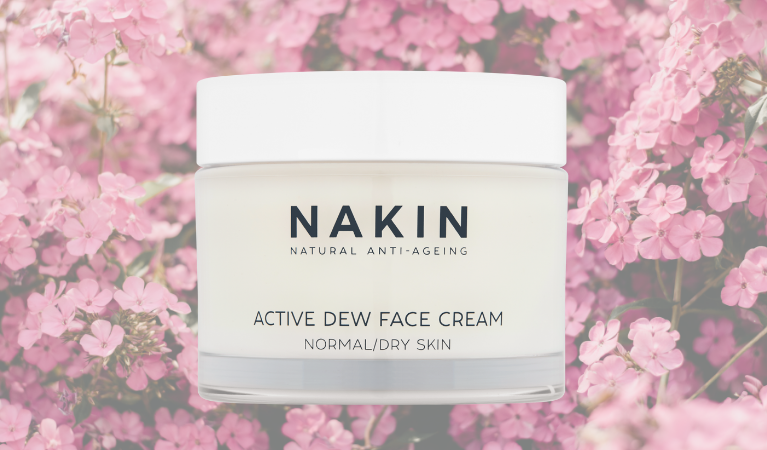 The Dermalogica Skin Smoothing Cream has been around for many years and is a popular product. It has many loyal users, but we have found at Nakin that some customers are now using our Nakin Active Dew Face Cream as a more natural and affordable alternative to the Dermalogica Skin Smoothing Cream. Both products are bestsellers with many devotees and both brands are dedicated to producing excellent skincare products that meet the demands of everyday life. Nakin differ in that we use the highest possible amount of natural plant ingredients possible, and we never use ingredients such as PEGs and silicones in our formulas. Our formulas are all made with sensitive skin in mind and contain only mild natural fragrance.
Nakin's Active Dew Face Cream is for normal, dry, combination and sensitive skin and is like an invisible silky second skin, from the beautiful natural lipid formula. It is infused with a nourishing moisture complex that releases intense skin improving nutrition to hydrate, smooth and protect. It contains some of the best plant ingredients including two forms of hyaluronic acid, grape seed oil, jojoba oil, argan, baobab and aloe. This combination plumps skin from its ability to improve the natural moisture levels and includes the three essential moisturising ingredients, which are humectants, occlusives and emollients. The different types of hyaluronic acid mean that it can plump the skin surface as well as reaching deeper down to the skin layers. The potent plant extracts provide skin with an abundance of antioxidants which fights off damage from personal and environmental stress, such as stress and environmental pollution.
The Skin Smoothing and Active Dew Cream are both modern formulas that smooth and hydrate skin but also do so much more, as they protect from environmental exposure, plus damage from lifestyle factors such as stress. This is achieved from the advancements in skincare technology, and it means that they offer additional support to skin beyond hydration. The advanced formulas provide continuous long-lasting hydration and offer protection to the skin barrier from trans epidermal water loss, which is when moisture evaporates from the skin. Keeping this moisture in also helps to hydrate the face and neck, leaving skin soft and bouncy without dehydration.
So, if you are looking for a good alternative to the Dermalogica Skin Smoothing Cream then Nakin have a great natural affordable option with our Active Dew Face Cream. It offers so much to skin with superb hydration and skin barrier enhancement, plus protection from environmental stress. It is a great anti-ageing cream that helps to reduce lines and wrinkles, plus premature skin ageing.
To use apply a small amount to the face, neck and decolletage in upward movements. It can be used day and night in the morning and evening, after cleansing and applying treatments. Nakin have a full range of face care which can all be purchased at the links below.
      UK Skincare       Sensitive Skincare     Cruelty Free Skincare     Vegan Skincare