Age Defence Moisturiser for Oily Combination Skin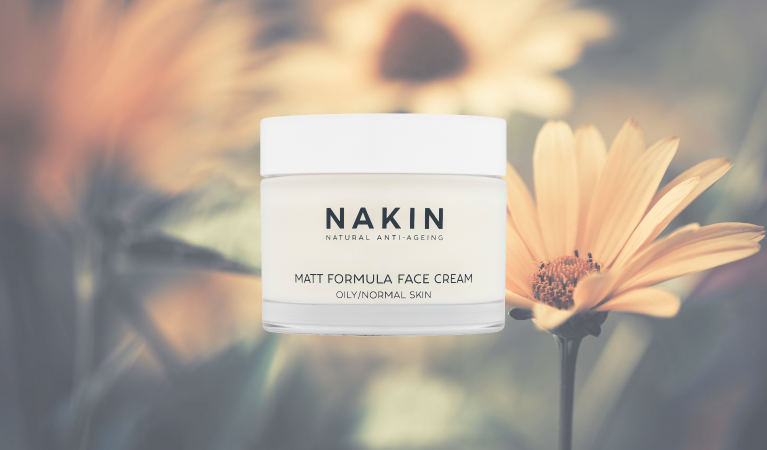 If your skin is on the oily side and you are looking for a good age defence moisturiser for oily combination skin, then we have just the one with our Nakin Matt Formula Face Cream. Customers love how it has a light but potent formula that sinks easily into the face and neck to give long lasting hydration and nutrition, but without greasiness. It is specially designed for oily, combination, normal and sensitive skin types as it is filled with plant ingredients that are kind and nourishing, plus are never too rich and greasy for the face and neck. Those types of ingredients are on our banned list at Nakin, and instead we use high quality plant actives and extracts that all skin types love.
Nakin's Matt Formula Face Cream is formulated with natural ingredients like cassia extra and omega rich plant oils to nourish and protect the skin, whilst helping to reduce signs of ageing. Its lightweight texture reduces shine and can be used as a perfect base for make-up. With its blend of active plant extracts, including cassia, pomegranate and aloe, this face cream helps to minimise fine lines, wrinkles and age spots. These ingredients help to hydrate the skin without blocking pores or leaving it feeling greasy. The balancing plant oils also help to control excess sebum production in combination/oily skin types for improved complexion health.
This is not an oil-free formula which we know lots of customers with oily skin look for in a face cream. However, high quality plant oils are actually really balancing for oily skin, and we do not recommend avoiding them. They also work to defend your skin from environmental damage and the effects of ageing, but also help to reduce skin redness and irritation. The addition of vitamin E helps protect against oxidative stress that can occur through everyday life. With this age defence moisturiser, you can be sure your skin is being helped to look soft, smooth and youthful for years to come.
Nakin's Matt Formula Face Cream is designed to nourish all types of oily combination skin with its advanced anti-ageing properties, leaving a shine-free glowing finish with improved hydration and reduced signs of ageing. Give yourself the best in age defence skincare today with this gorgeous award-winning face cream.
We hope that you can try our Matt Formula Face Cream moisturiser as its composition of natural and plant-based ingredients can effectively nourish oily combination skin. It contains skin loving ingredients that help to rebalance the skin microbiome, reducing excess sebum production and helping reduce breakouts. The unique matt formula helps to keep shine at bay during the day while delivering intense hydration and nourishment. Ideal for those with any type of oiliness or combination skin, this cream will leave your face feeling fresh, smooth, and soft all day long. With its lightweight texture, it does not feel heavy or greasy on the skin – instead, providing light but effective coverage that won't clog pores. This is just one of our natural moisturisers in our anti-ageing face product range, and everything can be found at www.nakinskincare.com